Our cottage has a rich history and we're still trying to work most of out.  The Walled Cottage used to be 2 separate cottages, we believe one was known as Parsonage Cottage, as it was in the grounds of what is now The Old Parsonage and the other as The Cottage Opposite The Sun, because it's opposite The Sun Cafe Bar (which used to be a public house); it may also have been known as "Jones' Cottage".
The cottages became one in 1964 and became known as The Walled Cottage.
A new cottage
Cottage built by Simon Christmas and sold to THOMAS TOMBS 
Simon Christmas (cordwainer), husband of Elizabeth sells to Thomas Tombs for £45. Described as 'ALL that new Erected Cottage' 
Timeline Story
Add Description Here
Extension built
A 2 storey extension is added to the east side of the cottage providing a new kitchen downstairs and a new bedroom upstairs.
The Prests buy the cottage
The Cottage is bought by John and Susan Prest.  John is a history professor at Balliol College, Oxford.
The House Opposite The Sun
Cottage built
The cottage was built and known as The Cottage Opposite The Sun due to its proximity to The Sun public house. The house faced the road (then known as Back Street) and only had windows on the side facing the road.  There was a pump house and a storage room to the site of the house.
Occupied
Occupied by George Hanley, infant shoe maker? (property mentioned as being to the North of the Old Parsonage cottage in the 1839 deed) 
Inheritance
Joseph Penny Frampton dies and leaves to his son Joseph Perry Frampton 
Change of ownership
Joseph Perry Frampton (farmer) sells to Arthur Edmund Cullum (carpenter) for £180 along with Westfield Road premises 
Occupied
8 Church Road owned by Arthur Callum and lived in by Frank Jones (from district valuations p33 and map, property no 365) 
The Jones's
Probate
Arthur Edmund Cullum dies and probate granted to daughters Barbara Cullum (spinster) and Florence Mary Prior.  They inherit Jones' cottage and workshop (Allen site) in Westfield Road 
Sold
Miss B Cullum sells Jones' Cottage to Leonard Freeman (group captain retired) and Phyllis Cecily Freeman for £500 2nd Jan 1961 
Probate
Leonard Freeman dies and Phyllis Cecily Freeman inherits
Cottage sold
Phyllis Cecily Freeman(widow) sells to John Prest and Susan Prest for £6600. Deed refers to 1950 conveyance of premises known as the Wall Cottage but which were formerly Ye Olde Parsonage.   Plan shows two cottages not joined.  Also shows a green house the other side of the original historic wall
Planning permission
John Prest gets planning permission to join two cottages to form THE WALLED COTTAGE.
Cottage joined
In 1964, the Prests joined Parsonage Cottage and The House Opposite The Sun together so they became a single property known as The Walled Cottage.
Grade 2 listing
The cottage is listed as a grade 2 listed property.  Details of the listing can be found here. The description is:
"Small house. Mid/late C18. Limestone rubble and squared quoins with timber lintels; old plain-tile roof and brick gable stack. L-plan. 2 storeys. Symmetrical 3-window front has blocked central door and five 2-light casements, those at ground floor with plank shutters and those above with brick sills. Small rubble range adjoining chimney gable to left. Part rendered rubble rear wing to right. Interior not inspected."
A new house
Planning permission is granted to build a new bungalow with a basement in the garden.
New owners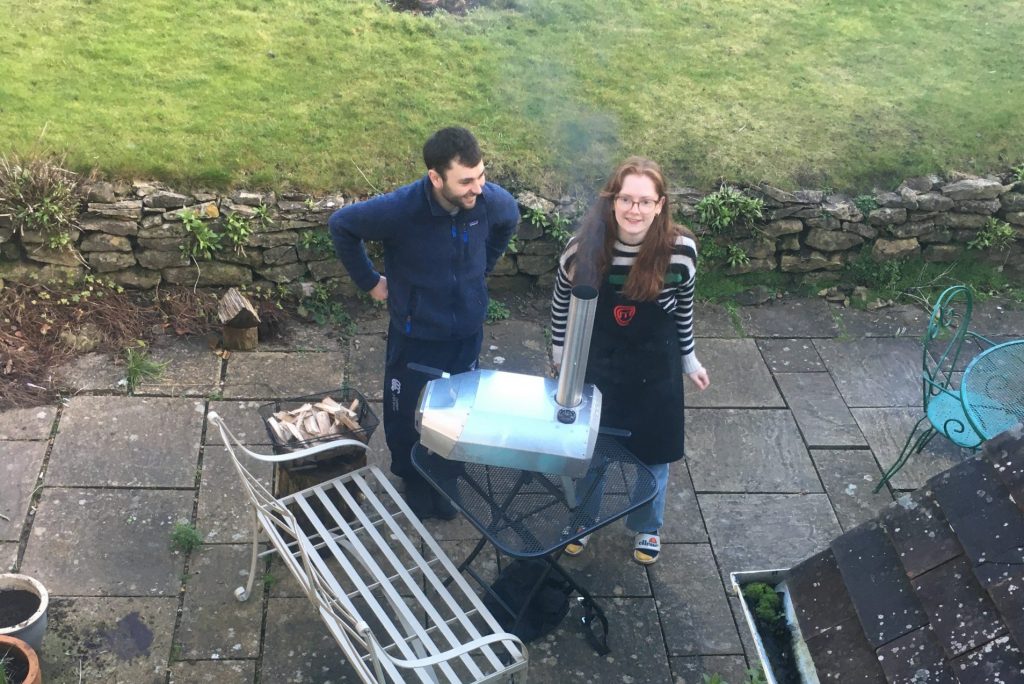 The Walled Cottage was bought by the Barrett family who moved from Royal Tunbridge Wells to fulfil a dream of living in a village close to Oxford.